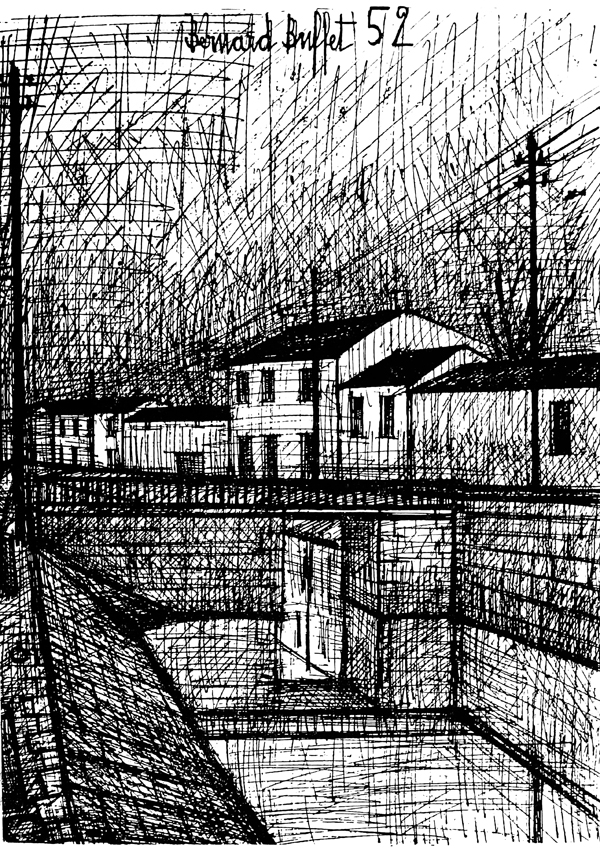 Before Bernard Buffet one might possibly have considered drawing an insufficient art form, wanting paint to give it true value. The greatest painter of a generation had also to be its greatest draftsmen. Bernard Buffet uses pen or pencil as a brush. He doesn't draw in the usual sense of the word: he paints with skillful gradations which range from lightest gray to darkest black. At twenty-four he has already acquired a thorough knowledge of his craft.
In the past he filled canvas and paper with the pain of passion; today he may be included among the greatest French landscape artists with his drawings of Poitevin marshes and of the Charentes. We like to find that breaking with present trends Bernard Buffet has gazed upon streams and rivers dotted with pointed boats, bordered with poplars, and has expressed them with unusual emotion. We like those village streets framed by telegraph wires, becoming part of masterful compositions—deserted streets, abandoned ports—such is Buffet's universe. Carrying on with old tradition, he works in the villages he loves and lives in them.
We are familiar with his shabby rooms, iron beds, lamp shade frames; henceforth Bernard Buffet is not just a recorder of kitchen utensils but also of French landscapes.
—Pierre Bergé
Want to keep reading?
Subscribe and save 33%.
Subscribe Now
Already a subscriber? Sign in below.